Seit über 10 Jahren ist ein Besuch der Connichi einer der Höhepunkte für Freunde der japanischen Kultur. Es ist eine gute Gelegenheit, Gleichgesinnte zu treffen, das neuste Cosplay zu zeigen, sich über die neuesten Manga und Anime zu informieren oder aktuelle Videospiele auszuprobieren. Auch in diesem Jahr zog es wieder unzählige Besucher nach Kassel in das Kongress Palais und den angrenzenden Stadthallengarten. Schon in den frühen Morgenstunden waren kostümierte Besucher in den Straßen zu finden. Die Schlangen von dem Eingang waren zwar lang aber der Einlass lief zügig, nachdem die Türen endlich für das Publikum geöffnet wurden. Kurze Zeit später staute sich die Menschenmenge an den Ständen der Händler. 

Neben den deutschen Showgruppen gab es wieder Gäste aus dem fernen Japan. Musiker und andere Künstler zeigten ihre Talente in diesem Jahr erstmalig auch in einem Zelt im Außenbereich. Eine Gruppe, die im Programm als »Samurai« bezeichnet wurde zeigte eine Choreografie aus Tanz und Schwertkampf. Taiko-Trommler durften natürlich nicht fehlen.

Wie in der Vergangenheit gab es erneut Gelegenheit, deutsche Synchronsprecher zu treffen. Ein Höhepunkt in diesem Jahr war das Panel von Rooster Teeth. Das amerikanische Studio hatte mehrere Sprecher seiner erfolgreichen Serie RWBY nach Deutschland geschickt. Neben exklusiven Clips der neuen Staffel gab es ein Q&A an dem die Sprecher und das Publikum großen Spaß hatten. 

Für alle abenteuerlustigen gab es am Sonntagmorgen den Vortag "Einmal Tokio zum Mitnehmen" von Luigi - der einzig Wahre. Dort erfuhr man viel wissenswertes über das Reisen nach und in Tokio sowie die verschiedenen Möglichkeiten, eine günstige Unterkunft zu finden. Leider reichte die veranschlagte Zeit nicht aus, um alle Fragen des Publikums zu beantworten. Luigi hätte mühelos länger erzählen können. Ich hoffe, er holt das nächstes Jahr nach.

Und dann gab es Cosplay und noch mehr Cosplay. Besonders am sonnigen Sonntag füllte sich der Stadthallengarten mit hunderten von bekannten und weniger bekannten Charakteren aus Film, Fernsehen und Anime. Weil der Park nicht direkt zum Geländer der Connichi gehörte war dort ein Besuch ohne Eintrittskarte möglich. Cosplayer traffen dann auch gelegentlich auf unvorbereitete Spaziergänger. Man sollte aber davon ausgehen, dass sich die Anwohner inzwischen an das jährlich stattfinden Spektakel gewöhnt haben.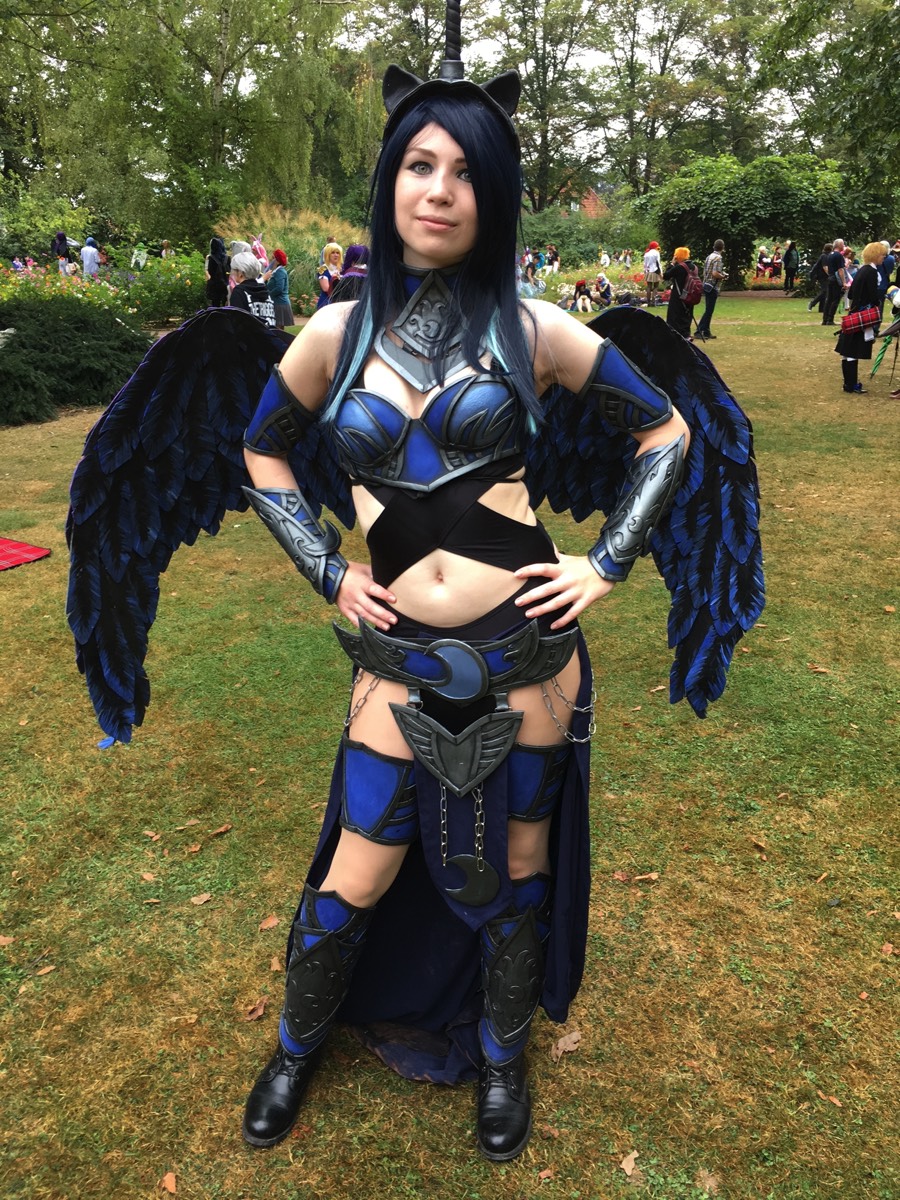 Die Connichi bietet immer eine gute Mischung aus professionellen Anbietern und Teilnehmern, die ihre Leidenschaft nur als Hobby betreiben. Das betrifft sowohl die auftretenden Künstler als auch die Verkaufsstände. Die Übergänge sind fließend. Nicht selten führt ein Hobby zu atemberaubenden Ergebnissen. Besonders bei den Zeichnern war das oft auf den ersten Blick erkennen. Auch viele der Cosplayer hatten ihre Kostüme in mühevoller Arbeit selbst angefertigt. Die Aufführungen der Showgruppen waren ebenfalls beeindruckend. Besonders dann, wenn die Künstler sehr jung sind.

Besonderen Wert wurde vom Veranstalter auf japanisches Essen gelegt. Die Schlangen vor den Ständen waren leider oft lang, sodass viele Besucher wieder zur Bratwurst griffen. Die Köche taten ihr möglichstes, es reichte aber nicht, um der hungrigen Meute Einhalt zu gebieten. Die Wartezeit vor dem Bring and Buy war noch viel länger. 

Nach meinen Beobachtungen war die Connichi 2016 für den Veranstalter und für die Stadt Kassel wieder ein großer Erfolg. Die Stände der Händler waren meistens überfüllt und es ist anzunehmen, dass viele erfolgreiche Geschäfte gemacht wurden. Für Cosplayer und Künstler stand zweifellos der Spaß im Vordergrund und davon gab es reichlich. So kann es im nächsten Jahr mit der Connichi weiter gehen!
For over 10 years, a visit to the Connichi is one of the highlights for fans of Japanese culture. It is a good opportunity to meet like-minded people, to show the latest Cosplay, to learn about the latest anime and manga or try newer videogames. This year there were again many visitors to Kassel and the Congress Palace with the adjacent city hall garden. Already in the early morning you could watch costumed visitors in the streets. The queues at the gates were indeed long but everything went quickly after the doors were finally opened. Shortly afterwards, the crowd jammed at the booths of the traders.

In addition to the German show groups were again guests from Japan. Musicians and other artists showed their talents. This year for the first time also in a tent outside. A group that was referred to simply as »Samurai« in the program guide showed a choreography of dance and sword fighting. Taiko drummers were also estate.

As in the past there was another opportunity to meet German synchronously speaker. A highlight this year was the panel of Rooster Teeth. The American studio had sent several speakers of his successful series RWBY to Germany. In addition to exclusive clips from the new season, there was a Q & A. The speakers and the audience had great fun.

For all adventurous there was the lecture "Tokyo to take away" by Luigi. There you could learn a lot interesting facts about traveling to and in Tokyo as well as the different ways to find an accommodation. Unfortunately enough, the estimated time was not enough to answer all the questions from the audience. Luigi could have told more effortlessly. I hope he will have more time next year.

And then there was Cosplay and more Cosplay. Especially on sunny Sunday, the city hall garden was filled with hundreds of known and lesser-known characters from film, TV and Anime. Because the park did not belong directly to the Connichi a visit without a ticket was possible. Cosplayers then also met occasionally unprepared walkers. However, one should assume that the residents have grown accustomed to the spectacle held annually.

Special emphasis was placed on Japanese food but the queues at the stalls were unfortunately often long so many visitors again selected Bratwurst. The cooks did their best, but it was not enough to feed the hungry guests. The waiting period before the Bring and Buy was much longer.

According to my observations the Connichi 2016 was again a great success for the organizers and for the City of Kassel. The booths of dealers were mostly crowded and it is likely that many successful businesses have been made. For cosplayers and artist participation was undoubtedly great fun. This is the path on which the Connichi can continue in the coming years!