Akiba's Trip: The Animation アキバズトリップ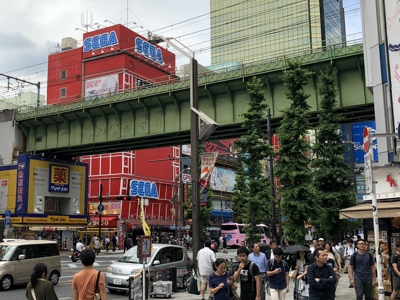 Bridge of the Soba Line in Akihabara
The green bridge of the Soba Line is almost impossible to miss when visiting Akihabara. It crosses the Chuo-Dori, the main street in the district. The bridge can be seen, among other things, in the opening of the Anime.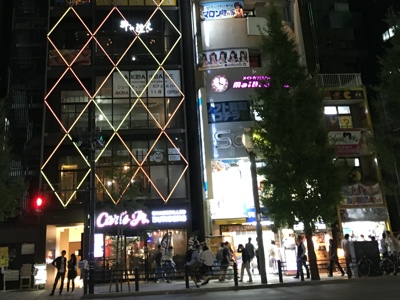 Also at the Chuo-Dori is a building with a striking lighting, which is also often shown in anime. On the ground floor is the restaurant Carl's Jr.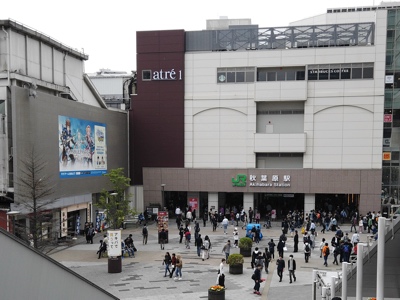 Akihabara Station - Electric Town Exit
The Electric Town exit of Akihabara Station is also often a place of action. In the anime, however, the adjacent shops are always closed. Probably to be able to draw them faster.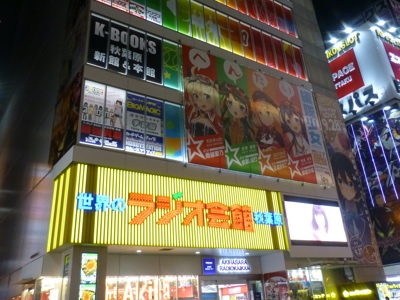 Akihabara Radio Kaikan 秋葉原ラジオ会館
Much of the action takes place on the upper floors, and on the roof, of Radio Kaikan in Akihabara. In the series a time machine collides with the facade. Unfortunately in Akihabara there is no longer the building that was shown in the series. The original Radio Kaikan building was demolished in 2011 and replaced by a new building, which opened in 2014.
Doctor-X: Surgeon Michiko Daimon ドクターX〜外科医・大門未知子〜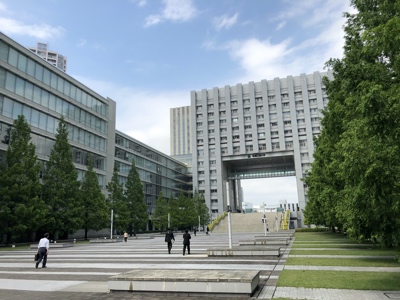 Shibaura Institute of Technology Toyosu Campus
In the first season of Doctor-X, the Shibaura Institute of Technology assumes the role of a hospital. The building can be seen several times in almost every episode of the season and is called Teito III University Hospital.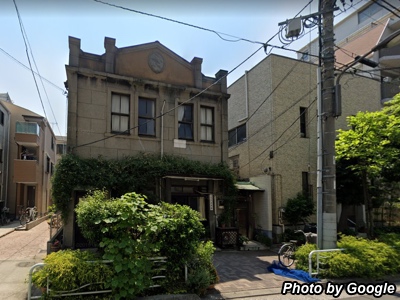 Das Haus von Michiko Daimon und Akira Kanbara
The doctor Michiko Daimon (played by Ryoko Yonekura) lives together with her agent/manager Akira Kanbara (played by Ittoku Kishibe) in an old house in Tokyo.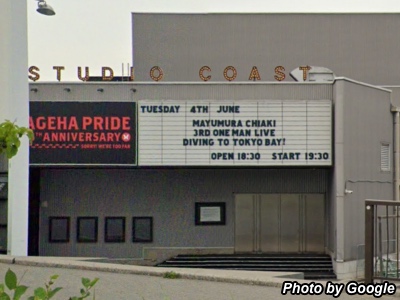 One episode of the series begins at Club Studio Coast. The nameplate on the roof is illuminated in the dark.
K-On! The Movie 映画けいおん! Eiga Keion!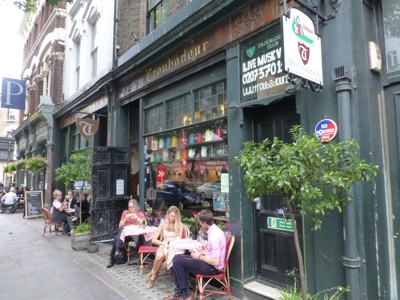 The Troubadour - London Club & Restaurant
Since 1954 The Troubadour has been one of the best addresses for good music in London. Led Zeppelin, Bob Dylan, Sammy Davis Jr., Jimi Hendrix and many other famous artists have played there and still the Troubadour regularly plays live music. So it is not surprising that the girls from K-On also stop by there during their visit to London. Although The Troubadour is only briefly shown in the film, the people who run it are well aware of this honour. A picture of the K-ON girls is hanging in one of the shop windows.