Let's go to Tokyo!
---
»We have to go there!«
I will never forget this sentence from my pal Michael, with which he expressed what we both had actually been thinking for a long time. We have been interested in Japanese culture for some time, especially in current Japanese pop culture. Melonpan, Gatchapon, Gundam or Sakura were terms from our everyday vocabulary. We had already attended concerts by Japanese artists, although we didn't understand the language. Nevertheless, it was always great fun and we met some people there who shared our interests. After enjoying countless YouTube videos from Tokyo, wasn't it time for us to go there? That wouldn't be unusual. Many people spend their vacations there, why not us?
But Tokyo? That is far away and the people only speak Japanese. What would we eat? Where would we sleep and what would we do there? We had no answers to many questions and a trip to Japan seemed like an adventure. But in the end, wanderlust and curiosity won out. At some point we decided to just do it.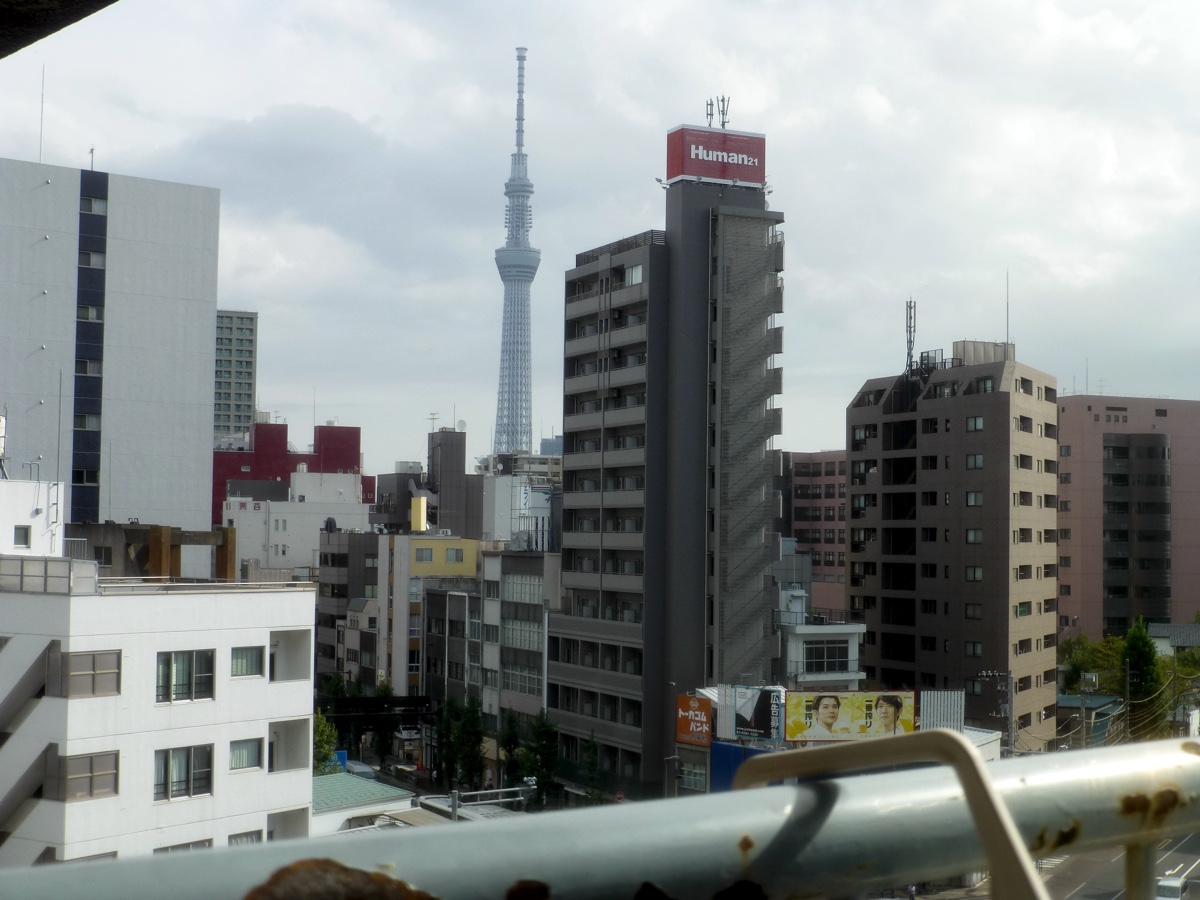 A view from the balcony of our first AirBnB apartment
From the very beginning, we did without the services of a travel agency, instead we wanted to organize the trip completely independently. That wasn't difficult and the flights to Tokyo and back were quickly booked via an airline's website. Now there was almost no turning back. To save money, we had decided not to stay in a hotel but to look for accommodation through AirBnB. This seemed to be a cheap alternative, although we had no experience with this platform. In the end we chose an apartment in Asakusabashi, near the Kuramae metro station. That this is a good location for accommodation but we did not know that when we booked. We chose the apartment because it offered a view of Tokyo Skytree from the balcony. There should also be an internet connection! Some decisions are easy to justify. So everything was actually settled. We had an apartment that we only had to find in one of the biggest cities in the world.
The flight from Düsseldorf to Narita Airport was long, but went on without any problems. When we entered the country, our fingerprints were taken and photos were taken, but we didn't let that irritate us. It would have been conspicuous if only we had had to go through this procedure. But this was not the case and so we stood in a queue with many other tourists and waited for the things that were to come. Other countries, other safety regulations. On our way through the airport we also had to pass a device that apparently measured our body temperature. Probably the Japanese don't even want to let people with high fever leave the airport. If it works, it is not a bad idea.
After we received our suitcases, we passed through customs in the direction of the exit. There we only had to show our passports again, because we did not have any dutiable items in our luggage. I can't say for sure if it was already signposted before customs, but directly behind the passage we found several counters where tickets for buses and trains were sold. Exactly what we needed, because Narita Airport is located about 60 kilometers east of Tokyo. We explained to a helpful woman at the counter that we wanted to go to Kuramae subway station. She sold us two tickets and showed us the way to the trains. A little later we were on the road again. I cannot say exactly which train we took. In retrospect it was probably the cheapest connection, but not the fastest. From the train we saw small settlements and rice fields. That was our first impression of Japan. Only when the train approached Tokyo, the buildings got bigger.
The station Kurame is small and our apartment was not far from the station. It was only a short walk until we stood in front of the rented accommodation. I had searched for the route on the internet before we left Germany. We found the keys for the apartment door in a small box secured with a combination lock. The landlord had told us the combination in a message. Everything had worked as planned. As promised, we could see the skytree from the balcony. We had arrived in Tokyo. There was no doubt about that now.
Looking back, our adventure was in many aspects less exciting than feared. The flight, and the drive from the airport to the city, went without any problems. We found the apartment easily. Now nothing bad could happen to us anymore. We would not starve. On the way from the Metro station Kuramae to our accommodation we had seen some supermarkets and restaurants already. Everything else would turn out. In fact, the biggest problem of our first trip was to get the washing machine in the apartment working.
Tokyo is not a place to be afraid of. Undeniably, it is one of the largest metropolises on our planet, but you can't see that in many parts of the city. Tokyo is clean and the traffic, even on four-lane roads and compared to Germany, minimal. For the Olympic Games in Japan in 2020, many places were signposted in several languages. So with solid English, you can get quite far in Tokyo. At least if you don't want to have long conversations with the locals. Many young Japanese have a rudimentary knowledge of English, but are often too shy to use it.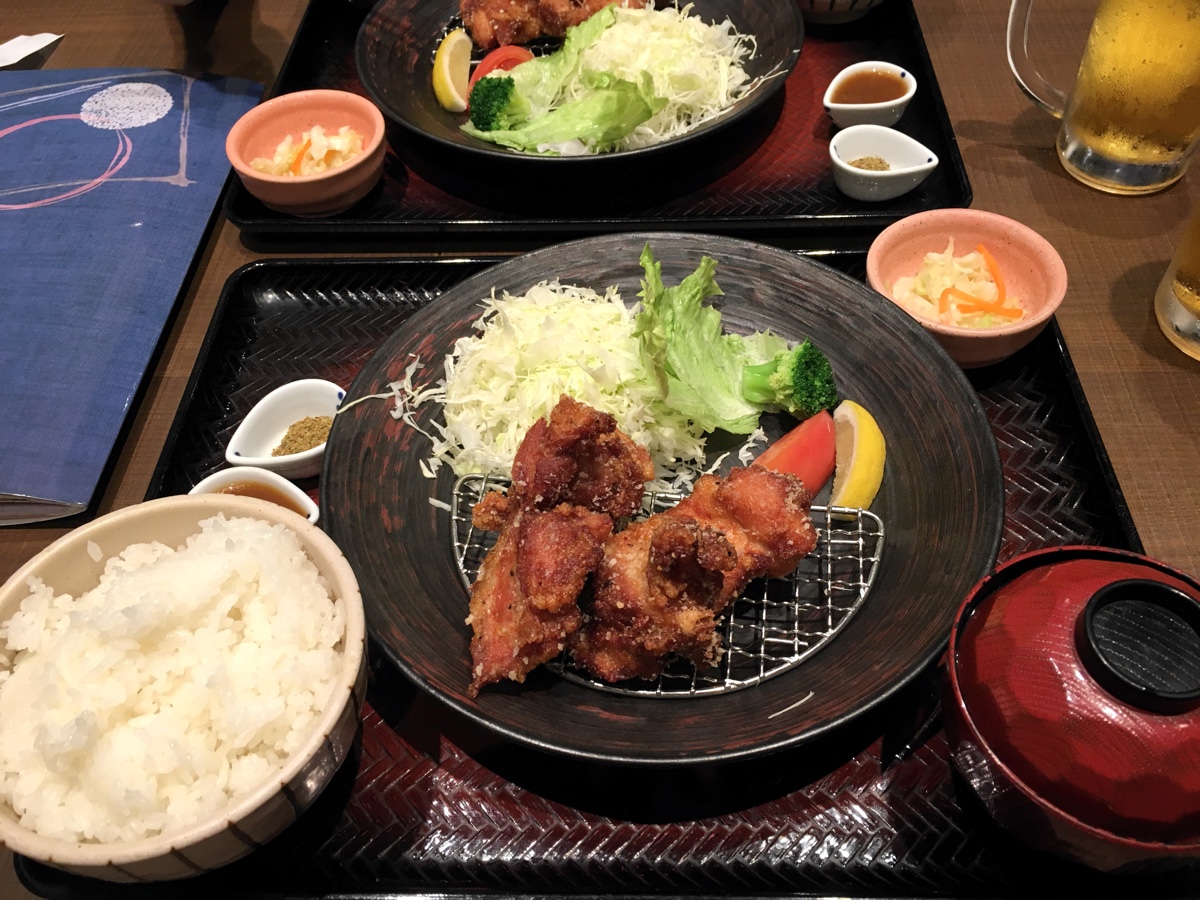 Unser erstes Abendessen in Tokio
The people in Tokyo are very concerned that everything runs smoothly. I've seen parking garages where four people in uniform control the entrances and exits, and many of the larger subway stations have staff to keep an eye on and assist the travelers. At construction sites, you almost always see uniformed people who seem to have no other task than pointing out possible dangers to passers-by. The size of the construction site is not important. A worker justifies a guard. In Germany, people are usually content to put up signs.
We got to know the Japanese as extremely helpful. Sometimes it's enough to look helpless for a few seconds and they will try to help you. Even if they do not speak your language. We could experience this in a subway station, in a laundromat and on the streets of Akihabara. As customers we were always treated very obligingly in stores as well. It was never a problem for the staff to lead us directly to a desired item if we couldn't find it ourselves. So far I have never visited any other place where I felt so well looked after and protected as in Tokyo.
We did not suffer from a culture shock during our first visit to Japan. Although many things were strange for us, they were never unpleasant. The biggest surprise was that the things we knew from anime and movies were not clichés but reality. Young girls in school uniforms are not uncommon in the street scene and we also saw Japanese wearing face masks in public. Often in busy places like the subway or public places. However, people wear these masks not to protect themselves from infection by disease, but because they themselves do not want to infect their fellow citizens. A good example of mutual consideration in Japan. Rumors have it that some young women use the face mask when there was not enough time for the morning makeup.
Tokyo has a typical street scene which, if you are familiar with it, you will quickly recognize and it is imitated in many anime. On some main roads, small fences and narrow green spaces separate the sidewalks from the roadway. The sidewalks are often wider than in Germany. In addition, they are largely paved and not concreted. Pedestrian traffic lights also accompany the green phases with a very typical signal tone. Some real existing buildings were even taken over unchanged in anime. The shopping center Radio Kaikan in Akihabara is one of the locations in the series Steins Gate. The green railroad bridge over Chuo Dori Street, also in Akihabara, is also occasionally shown in anime.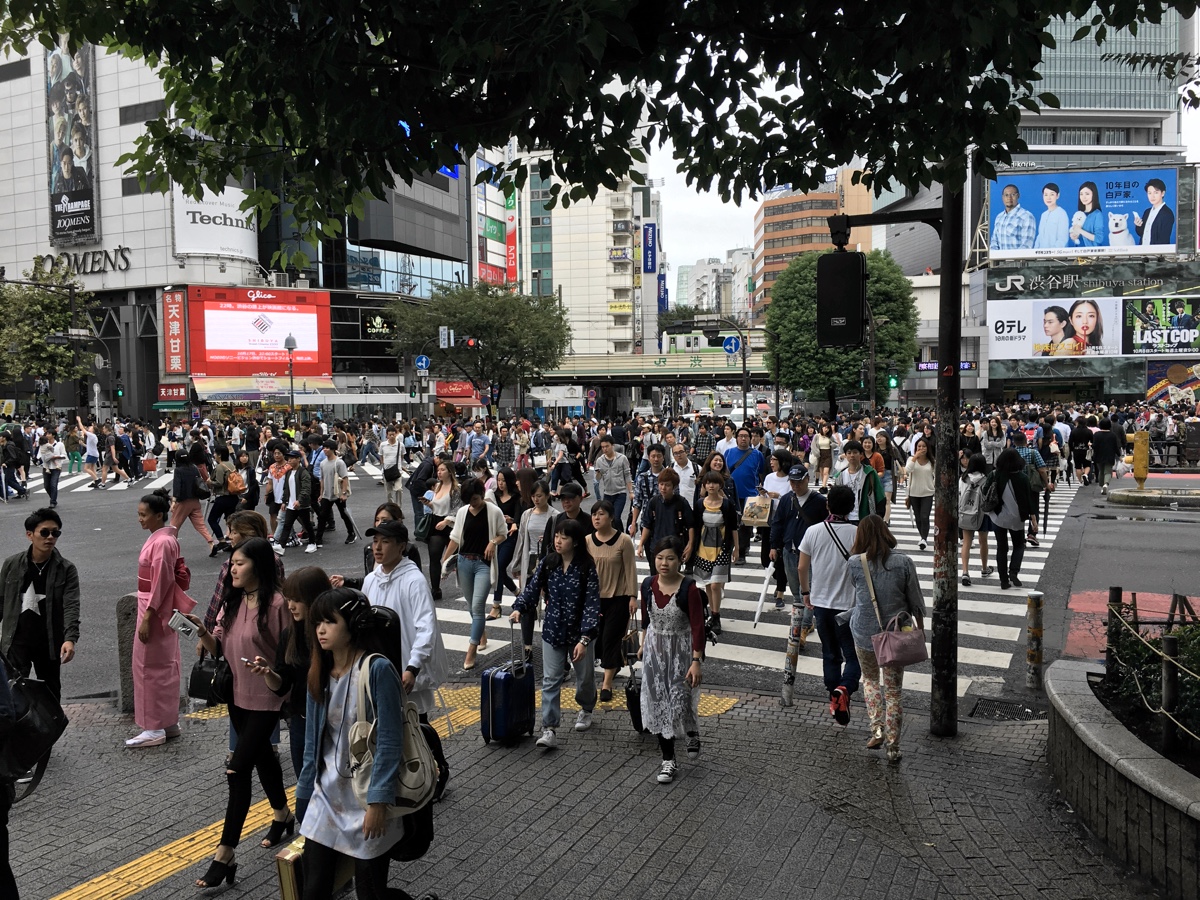 The famous crossroads in Shibuya
Theme cafes are also not uncommon in Tokyo. Above all, the famous Maid Cafes, where guests are served by young girls in colorful costumes. Cafes where you can spend time with animals are also very popular. Most Japanese will not have the space for their own pets, so they visit these places when they want to play with cats or small dogs. However, more unusual animals are also allowed. Owls or hedgehogs are also available. Although they are less suitable as playmates, they are much more exotic for a city dweller.
One question that I have been asked again and again since my visits to Tokyo is about the vending machines that allegedly sell girls' underwear. I can only say that I have never personally seen such vending machines. They do not seem to be numerous. In the meantime, however, I have been told exactly where these kinds of machines are located.